The OS reinstall is extremely useful when your system crashes and corrupts some files, as it will reinstall the OS and also resets some settings on your storage system. Unlike a Factory reset, it will not wipe any of your data, and won't reset all settings back to how they originally were.
1. Turn off your storage system and press and hold the reset button. The reset button can be a little hard to reach, so we advise using a straightened paper clip or any other sharp object.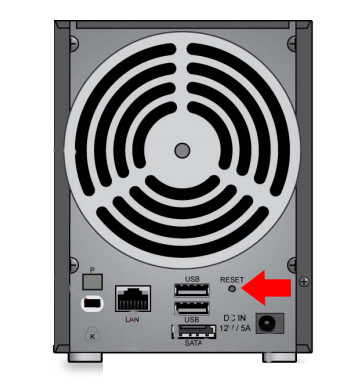 2. While pressing the reset button, press the power button to turn the system back on.
3. Continue to press the Reset button until the device is completely on and all Disk LEDs have flashed once. Wait 5 more seconds, and then release the reset button.
4. After the device has reset, press the backup button and scroll through the options until you find the OS reinstall Disk 2 option.